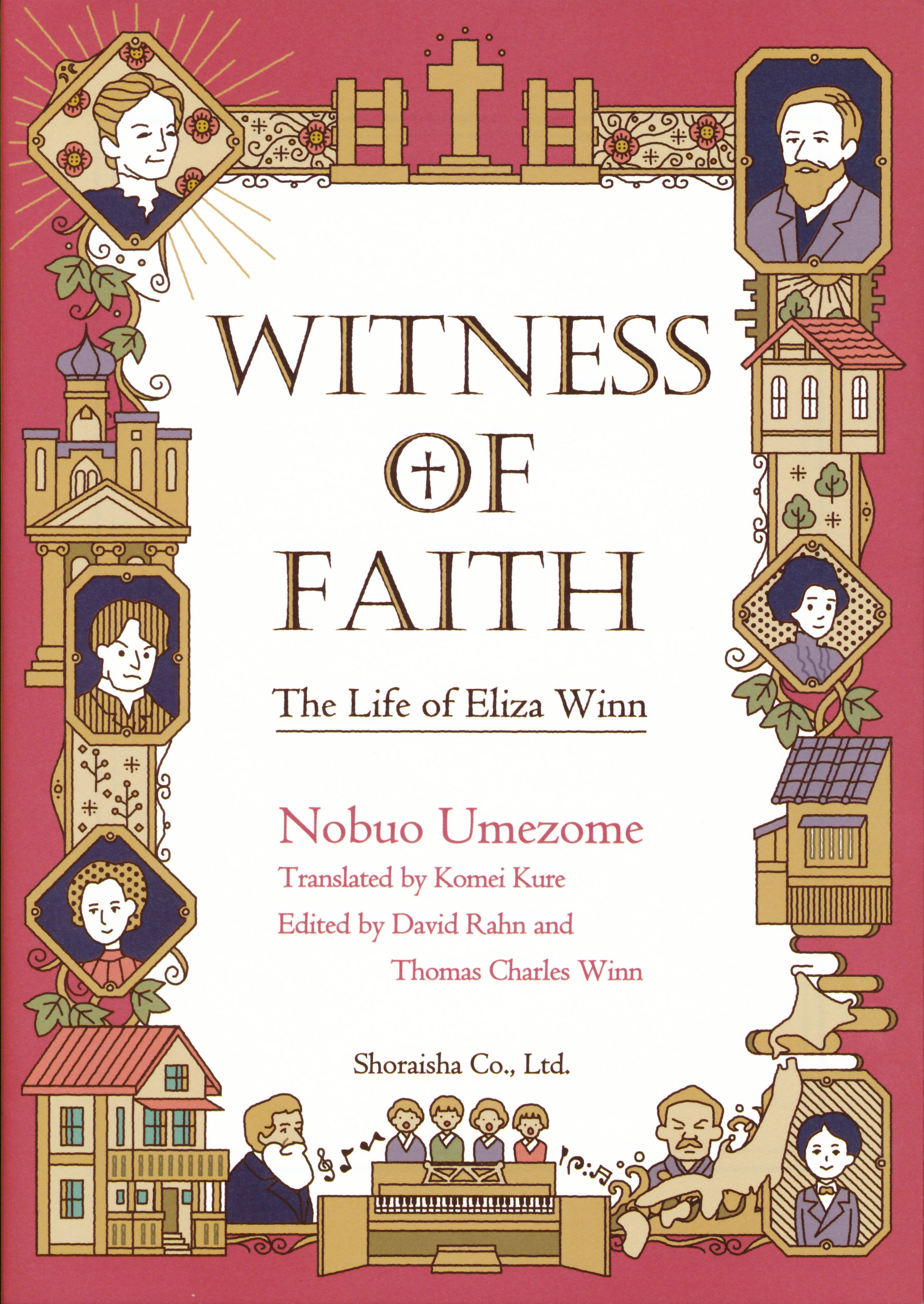 Witness of Faith: The Life of Eliza Winn
Auther: Nobuo Umezome
Translated by: Komei Kure
Edited by: David Ranh and Thomas Charles Winn
定価:本体1800円+税
ISBN:978-4-87984-396-8
2020年12月15日発行
内容紹介
北陸に初めてプロテスタントのキリスト教をもたらした婦人宣教師であり、同じく宣教師のトマス・ウィンの夫人であるイライザ・ウィンの伝記『信仰の証人 イライザ・ウイン伝』(梅染信夫編、2007年、金沢教会長老会発行)の英訳版


【CONTENTS】
Author's Foreword to New Edition
Preface for the English Edition
Introduction: Thomas Charles Winn, great-grandson of Thomas Clay and Eliza Caroline Winn
Note by the Translator
Author's Preface

Chapter 1: How Eliza's Father and Mother Met

Chapter 2: George Gale's "The Prairie College"

Chapter 3: The Founding of Knox College

Chapter 4: Father as Businessman and Mother as "A Woman of Prudence"

Chapter 5: The Gift of Encounter

Chapter 6: Days as an Elementary School Pupil, Lincoln, and the Civil War

Chapter 7: High School Days

Chapter 8: Confession of Faith

Chapter 9: Meeting with Thomas Winn

Chapter 10: Love, Career, and Thomas' Call

Chapter 11: Becoming a Missionary and Getting Married

Chapter 12: Arriving in Japan and the Assigned Site

Chapter 13: Arriving at Kanazawa and Starting to Preach

Chapter 14: Christian Evangelism and the Founding of the Aishin School

Chapter 15: The Establishment of the Kanazawa Church, and Mission Trips to Noto and Toyama

Chapter 16: Development of Mission and Storm of Persecution

Chapter 17: The Founding of the Kanazawa Girls' School

Chapter 18: Construction of a Building Leading to an Independent Tonomachi Church

Chapter 19: The Church Building Collapses, and the Church Faces Challenges of Maintaining Its Independent Status

Chapter 20: The Women's Association, and Social Work

Chapter 21: The Establishment of Toyama Church and the Daishoji Assembly Hall

Chapter 22: The Hokuriku Eiwa School Forced to Close

Chapter 23: The Translation of Life of John Paton

Chapter 24: The Death of Mary Hesser and the Winns' Furlough in the United States

Chapter 25: Evangelism in the Kansai area

Chapter 26: Evangelism in Manchuria

Chapter 27: Remembering Eliza

Appendix 1: "Mrs. Winn of Japan and Manchuria" by Thomas Clay Winn
A Note on the Appendix 1
Appendix 2
Appendix 3
Notes
Acknowledgments
Picture Credits and Maps
Index
Maps and Chart
A timeline of significant events in the life of Eliza Caroline Winn
Profiles


Profiles
Author: Nobuo Umezome Nobuo Umezome was born in 1929. He graduated from Aoyama Gakuin University's College of Literature, Theology Course. He taught English at Toyama Prefectural High schools, and later became English professor at Hokuriku Gakuin Junior College in Kanazawa. He has been an Elder of Kanazawa Church which Thomas and Eliza Winn founded. He wrote an article on Mary Hesser, the first head of Hokuriku Gakuin, but discovered that Eliza Winn was the original planner and a great supporter of the Girls' School in Kanazawa. He has written a book on Thomas Clay Winn and has compiled Rev. Winn's sermons included in the book Thomas Winn Senkyoshi: Denki to Sekkyo (Rev. Thomas Winn ~ His Life and Sermons), Hokuriku Gakuin, 2018. Also he is the author of Sambika Monogatari (Stories on Hymnals) I~III, Shinkyo Shuppan-sha, 1992-94. Presently, after his retirement, he serves as the Director of Winn's Memorial Hall (Hokuriku Gakuin Historical Archives).

Translator: Komei Kure Komei was born in 1946 in Okayama, Japan. He graduated from Canadian Academy High School in Kobe, Japan. He studied at Cornell College, Iowa (B.A. in Chemistry). Then he graduated from Kyoto University, Graduate School of Faculty of Education. He taught at Kyoto Seika University for forty years. Now he is retired and lives in Tokyo, Japan. Presently he is involved in the project ofRecording Oral History of Overseas Chinese in Western Japan. He has published Kobe: City of Lights (Ed. David Rahn and Emi Higashiyama) Kobe Shimbun Publishing Center Co. Ltd., 2013.

Editor: David Philip Rahn David was born in Elgin, Illinois on October 10, 1946. His parents started working as Christian missionaries at Toyonaka Church in Japan in 1953. He attended Canadian Academy, and then studied at Cornell College, Iowa. He was active as President of Public Affairs Club at Cornell and majored in History. He studied Japanese History at the University of Michigan and gained Master's degrees in East Asian Studies and History. Later he earned Master of Divinity degree at Iliff School of Theology in Colorado. David began serving as United Methodist Minister and lived in Grand Blanc, Michigan. David completed Master of Social Work degree at the University of Michigan. While working full-time as a social worker, David continued to minister, delivering sermons to rural Michigan congregations on Sunday morning. He passed away on July 17, 2020, and in his obituary is stated as follows: "Dave's early experiences bridging cultures and surviving a serious illness, combined with his naturally observant character, shaped a lifetime of wry and generous observation and care that would eventually interconnect in ministry, and hospice social work, and mental health counseling. … As a social worker, Dave's spiritual training, powers of observation, and profound empathy were perfectly suited to his work. He cared for his patients with warmth and sensitivity, and formed lifelong friendship with his coworkers." David has also edited Shoshichi Nakazawa: Thomas Clay Winn~The Life of an American Missionary in Early Modern Japan, Kohro-sha, 2004.

Editor: Thomas Charles Winn Tom was born in Guatemala, C.A. in 1945 where his parents were assigned to establish Laubach literacy centers. Tom's father, Paul R. Winn was the grandson of Thomas Clay and Eliza Willard Winn. Paul's father George H. Winn, became a missionary to Korea. Tom's parents were moved to Colombia, S.A. then to Japan where they were professors in Meiji Gakuin in Tokyo then several universities in Kyoto. While living in Tokyo Tom attended American School in Japan (ASIJ), then Canadian Academy in Kobe where David and Komei were classmates. Tom attended Seattle Pacific College then graduated from Western Washington University followed by attaining a Master's Degree in Education from Leslie College. Tom taught reading and computer science in the La Conner Public School. He loved hiking, mountain climbing, skiing, and sailing. The summer of 1963 Tom and Komei walked Tokaido Road which was the historical trade route from Kyoto, the ancient capital, to Tokyo the modern capitol. In October 2018 Tom and his wife Mary walked along the Nakasendo Road from Ena to Tokyo. He passed away in the spring of 2019. Surviving are his wife, Mary, and daughters from a previous marriage, Jennifer Winn Faley and Stacy Winn Brown.
ご購入方法
全国の大型書店さん中心に、販売していただいております。

各オンライン書店へは版元ドットコムからどうぞ